Flying for the Cause
Glenndale Days aids families

By MEGHAN DURBAK


Tribune staff writer
Monday, September 24, 2007
Click here to see a slideshow of the annual Glenndale Days Barbecue

There was a time when Laura Stants couldn't see past her grief. She felt desperate.

At 3 months, her son, Devon, was diagnosed with spinal muscular atrophy, a terminal illness that destroys all the muscles in the body. Nine months later he died. A few months later, she and her husband Steve lost their second son, Sidney, a few hours after his birth, to the disorder.

"If you'd asked me 'Can you handle this?' I'd say no," she said. "You're not given a choice. "You can spend the rest of your life mourning their lives or remember them as they were."

So she and her husband made a choice. They chose to pursue happiness and, in turn, help others who've faced the same hardships.

The couple has run Glenndale Airport for years. Since the early 1990s, they've thrown the annual Glenndale Days Barbecue where numerous pilots gather to show off their planes and offer rides to those attending.
They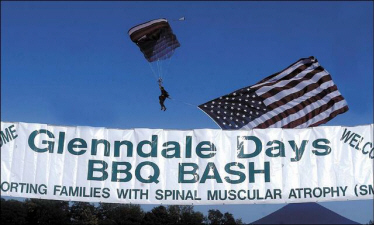 chose to turn the annual barbecue into a fundraiser for spinal muscular atrophy (SMA). SMA is a muscle disease passed on genetically to children by their parents. It is a recessive genetic disease, meaning both parents must carry a copy of the recessive SMA gene. There is only a 25 percent chance of offspring having SMA.

Each year the Stants raise money to provide families with breathing machines, monitors, seating systems, wheel chairs, and other equipment.

They've also made contact with a manufacturer for a cough assist machine, that helps children breathe and get rid of bacteria, Stants said.

She said they've helped some local families as well as families of SMA children from as far away as Australia. Families have found them on their Web site, www.smasupport.org.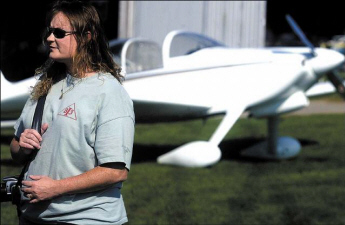 "When you have a child with a terminal illness, you're pretty much desperate," she said.

The charity helps the Stants remember their sons and help others.

"I think about them, but not in a sad way," she said. "Their lives weren't in vain and their memory is positive," she said. "Because they lived, look at what we can help accomplish."

She said the barbecue isn't a time of mourning — it's a time for extended family, like their fellow pilots, and the community to come together for fun and raise money for a good cause.

The Stants choose to share their love of flying. For the event, they invite several pilots to fly into Glenndale Airport and take part of the weekend event. Nine of them give rides to community members in six small planes. The planes range from a Cessna 172, a one-seater ultra lite, and an AT-6 Texan, used as a trainer for Allied pilots during World War II.

Stants said most of the pilots are their extended family. Ken Bemis, a flight instructor and pilot of 30 years, has known the Stants for years. He shares their enthusiasm for flying.

"You can see the sun set while on the ground and then climb a few thousand feet and see it all over again," he said.

He also enjoys the thrill of flying the small Cessna 172.

"You can ride in a roller coaster all day," he said.

He comes to the barbecue to help "a good cause" and for the camaraderie of other pilots. So does his friend, A.E. Purcifull.

"This is grassroots. This is where aviation started," Purcifull said.

The event is also an eye-opener for future pilots. Several children come and wish to fly afterwards. It's no different with the Stants' 6 1/2 -year-old daughter, Kaylee.

Stants said she and her husband were delighted to finally have a healthy child, whom they're raising to be a pilot just like them.

"I want to be a pilot because I like to fly," Kaylee said.

While the couple has lived through some very difficult times, Stants said she and her family have hope for themselves and other families.

"You have to live life," she said.

For additional details or to support Spinal Muscular Atrophy Support Inc., contact SMA Support Inc., P.O. Box 6301, Kokomo, IN, 46904, (317) 536-6063 or visit the Web at www.smasupport.org.